Ambiance and services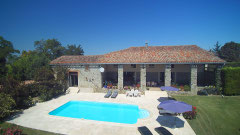 Overlooking the village, LE BOSC offers a panorama of wheat and sunflower fields and faces the hill of château de MONGEY, château de ST FELIX and is just a stone's throw from château de GARREVAQUES. The dining table stands on the terrace by the pool, allowing guests to dine is divine peace, gazing at the glorious setting sun.
The large house has been renovated in a style that respects its roots. It maintains its stone walls, terracotta floor-tiles, brushed oak parquets and beautiful antique beams.
Every room is decked out with the family's beautiful furniture and ornaments.
The Antan-style wine cellar with its antique fireplace forms the perfect setting for breakfast,
The fully-equipped gym is available for those wishing to keep in shape,
The games room, where you can try your hand at  Seven-pool, or enjoy a game of table football, chess or a selection of board games.
The lounge with its stunning central fireplace and ample armchairs, where you can enjoy the country's excellent wines and liqueurs.
The study and its computer are available for guests to use, as is the library, which hosts a wide array of books.
Bien être et beauté
Let your stress ebb away in the garden surrounding the pool. Enjoy an authentic Thai massage in the village and truly pamper yourself at the top-of-the-range SPA, "Les soins de Colette", where the friendly and professional team will offer your a customised programme.
The SPA and Thai massage centre are just 500m from the house.